I have been a K-pop fan since at least 2015. I've always enjoyed jamming to the songs—my Spotify playlist is 80% K-pop. For most of my stanning years, I was okay with just supporting my biases by streaming their songs. The last couple of years, however, found me buying my favorite artists' physical albums. 
My first few purchases gave me pure, unrestrained joy—I loved seeing how concept ideas and storylines are brought to life, not just in the song and the music video, but also in the album jackets, photobooks, and other inclusions.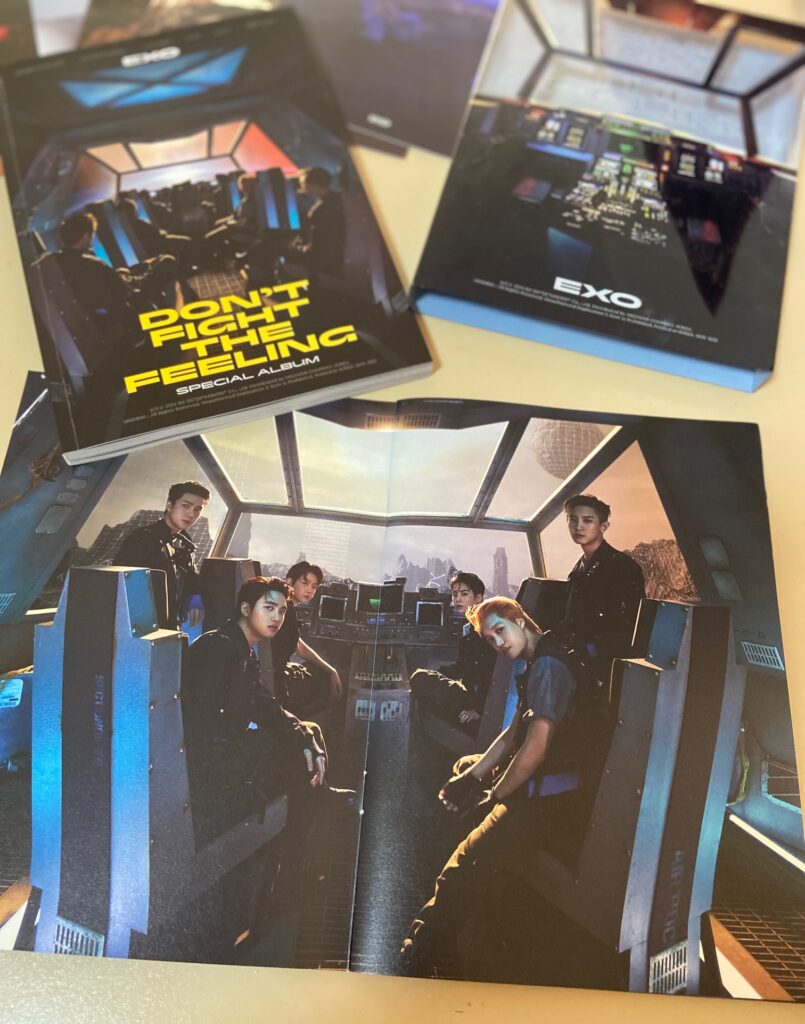 EXO, in particular, has been very consistent over the years with their storyline, incorporating elements of their origin story and superpowers in every comeback—whether as a group or in their solo endeavors. Their most recent special album, Don't Fight the Feeling, just added to the group's already rich lore. The album was a pleasant surprise to all EXO-Ls—and I didn't waste time getting my own copy of the physical album (even if I had to wait for more than a month to get it because of shipping delays). 
The special album commemorated the group's 9th anniversary, and their first comeback in 19 months after 2019's Obsession. It also marked the return of Xiumin and D.O from the military, and the participation of Lay (who last participated in 2018's Don't Mess Up My Tempo/Love Shot album). 
The album jacket and photobook show the EXO members go on a journey across space, and with each member landing on a different planet. The photos are stunning, and I am so happy I decided to order a copy! 
Looking at the photos, I think the storyline of this album concept is a continuation of, or parallel to 2016's Power. So, after I've basically admired each and every photo, I tried to figure out the story behind them. All of EXO were traveling together in a spaceship, but somehow, they were separated and they all landed on different planets (or alternate universes?). Where were they going? Kwangya? Were they trying to escape the Red Force, or were they pursuing it? Honestly, SM Entertainment needs to release a book that details everything—from EXO's origins to the present! 
Now onto the music—and this album didn't disappoint. The mini album has five songs, and opens with the title track Don't Fight the Feeling, a snappy, energetic number about believing in yourself and looking ahead towards the future even in the face of difficulties.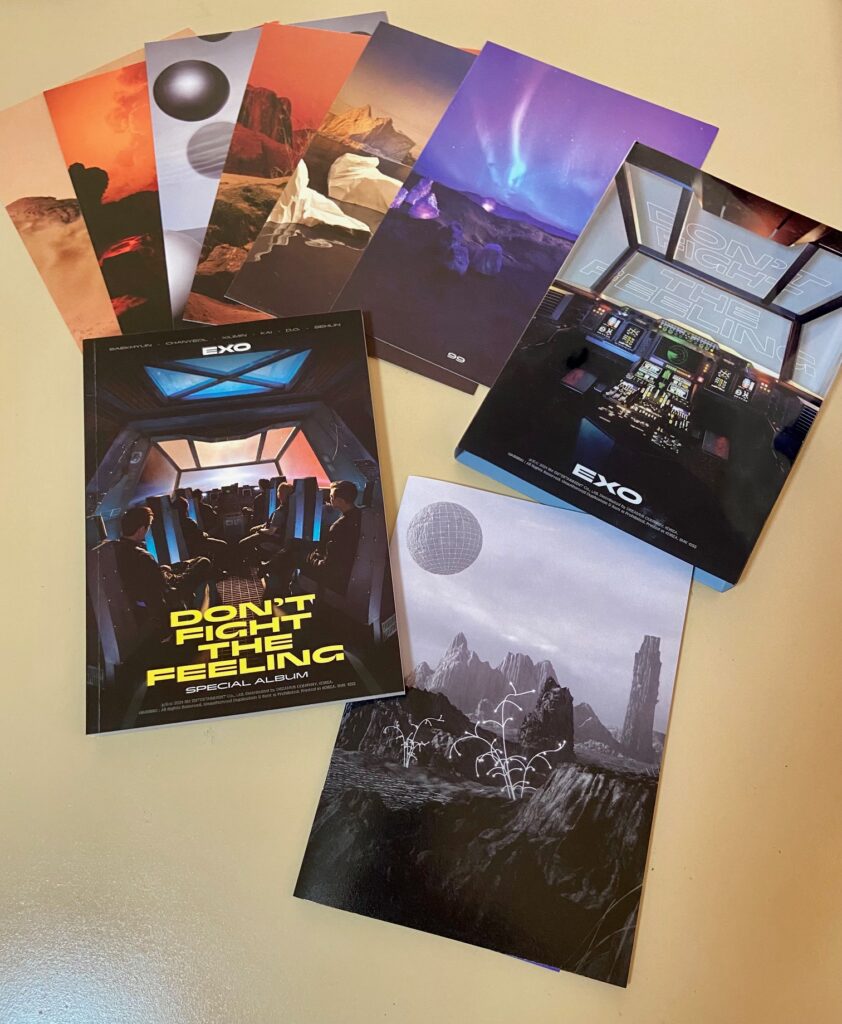 The rest of the tracks are perfect easy listening songs. Paradise is a catchy song about not being afraid to be with the person who's stolen their heart. And D.O's "Thank you" at the end of the song was so adorable. No Matter is another laidback song that's perfect for lazy weekends—I just wish they'd laid off the skrrt skrrt bit (why is this even a thing?). The song reminds me of 90s R&B jams. 
The mood shifts from upbeat to moody with Runaway, a track that encourages the listener to make that leap towards a fresh start. Wrapping up the track list is the sweet and sentimental Just as Usual, which is a nice song to listen to when I'm relaxing with a cup of coffee. 
This lovely mini-album—and the equally beautiful package it came in—proves EXO's staying power even as the members enter mandatory military service one by one. It's a wonderful present to all EXO-Ls (including me). It quenches some of the thirst, but ultimately, it leaves everyone hungry for a full OT9 comeback. 
2022 update: Main vocalists Chen and Baekhyun, and main rapper Chanyeol are all still in the military, but EXO's beloved leader, Suho, was discharged from his military service last February 13. With Suho back, will there be another album this year? I (and all EXO-Ls around the world) sure hope so! 
Featured Image Credit: Paula Abiog